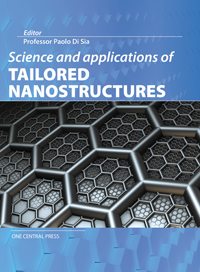 Science and Applications of Tailored Nanostructures
Editor(s):
Professor Paolo Di Sia
Publisher: One Central Press
ISBN (eBook): 9781910086193
Language: English
Description:
---
THE TOPICS COVERED IN THE EDITED BOOK INCLUDE, BUT ARE NOT LIMITED TO:
Nanotechnologies are designed to ensure control and manipulation of matter at the nanoscale, using properties of physical and chemical phenomena that occur at this scale. Many technologies of the past, empirically discovered, have been understood and brought back to structures and mechanisms at the nanometer scale; it is possible to realize materials with tailored properties and high performance through the choice and control of their nanoscale constituents. The combination of methods and instruments with self-assembly processes on the atomic scale provides an impressive range of new opportunities for welding pieces of chemistry and biology to artificial structures made by the man. The ability to create new objects appears therefore unlimited.
DOWNLOAD BOOK:
BOOK CONTENTS:
Book Editor Profile

University of Padova, Verona, Italy

Paolo Di Sia is currently Adjunct Professor by the Universities of Padova and Bolzano (Italy) and member of ISEM (Institute for Scientific Methodology) in Palermo (Italy). He obtained a Laurea in Metaphysics, a Laurea in Theoretical Physics, a PhD in Mathematical Modelling applied to Nano-Bio-Technology. His scientific mainstreams are Theoretical Physics, Classical and Quantum-Relativistic Nanophysics, Nano-Bio-Technology, Nano-Neuroscience, Planck Scale Physics, History and Philosophy of Science, Mathematics and Physics Education. He wrote more than 200 publications at today (papers on national and international journals, international book chapters, books, works on scientific web-pages, in press), is reviewer of 2 mathematics books, reviewer of 12 international journals, 9 international awards obtained, member of 7 scientific societies, member of 29 International Advisory/Editorial Boards.
Latest Books Edited
Back