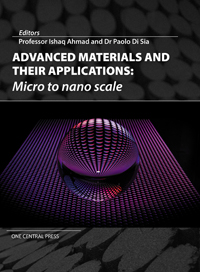 Advanced Materials and their Applications: Micro to Nano Scale
Editor(s):
Professor Ishaq Ahmad
Publisher: One Central Press
ISBN (eBook): 9781910086216
Language: English
Description:
---
THE TOPICS COVERED IN THE EDITED BOOK INCLUDE, BUT ARE NOT LIMITED TO:
Micro to nanoscale preferment of advanced materials has open up a new horizon in science and technology. The new establishments in the manufacturing of micro and nano systems based on advance materials bring promising changes in various fields. The prime disciplines expected to be boosted by these technological advancements includes future energy, biosensing devices, communication and information system, health care and medicine, environment and climate change, cosmetics, food processing security and transportation.
DOWNLOAD BOOK:
BOOK CONTENTS:
Book Editor Profile
UNational Centre for Physics, Islamabad, Pakistan

Ishaq Ahmad, PhD, is Director Experimental Physics of NCP – National Centre for Physics, Islamabad, Pakistan. He has co-authored over 80 publications in SCI journals and supervised several Master, PhD and Postdoctoral students. He has one books and number of book chapters. His research interests are focused on Ion implantation, ion beam induced modification of materials/nanomaterials, synthesis of nanomaterials/thin films and ion beam analysis of materials. He is editorial board member and reviewer of several well known journals. He was TWAS-UNESCO-iThemba LABS research Associate from 2014 to 2016. He is a senior fellow of UNESCO UNISA AFRICA Chair in Nanosciences/Nanotechnology and senior fellow of the Nanosciences African Network (NANOAFNET), an ICTP network.
Latest Books Edited
Back